bEST
bEST Technology Suite
Argos OnBoard from Sepialine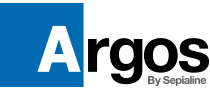 Argos OnBoard is embedded software that works with your compatible Konica Minolta multi-function peripheral (MFP) to control device access, authenticate users, and account for document expenses. Argos OnBoard eliminates the need for costly, unsightly hardware and cabling by integrating directly with the LCD front panel of your Konica Minolta MFP. With Argos OnBoard, customers can:
Capture every print, copy, scan, and fax
View sophisticated reports showing every document, who produced it, and when
Generate cost reports showing document expenses by user, department, device, location, and more
Using the Argos Desktop Client, prompt users to allocate expenses to client codes, then bill back to clients for reimbursement
Integrate Argos with hundreds of hardware and software products
More information can be found at Sepialine.com
The Secure Release component of Argos OnBoard requires i-Option (LK-101). The Authentication component does not require i-Option.
Sepialine Argos OnBoard v. 7.8.1.0-e0d0365 With Konica Minolta Connector 8.0.0.2
The following MFPs were certified by as of 2018-12-18:
| MFP Segment | Model Tested | MFP Series | Firmware Tested | Function Version Tested |
| --- | --- | --- | --- | --- |
| Production | AccurioPress 6136 | AccurioPress 6136, AccurioPress 6136P, AccurioPress 6120 | G00-11 | N/A |
| Production | AccurioPress C2060 | AccurioPress C2070, AccurioPress C2060, AccurioPrint C2060L | G00-12 | N/A |
| Production | AccurioPress C3070 | AccurioPress C3080, AccurioPress C3070, AccurioPrint C3070L | G00-20 | N/A |
| Production | AccurioPress C6085 | AccurioPress C6085, AccurioPress C6100 | G00-12 | N/A |
| A3 | bizhub 287 | bizhub 367, bizhub 287, bizhub 227 | G00-W4 | 4.2 |
| A3 | bizhub 364e | bizhub 554e, bizhub 454e, bizhub 364e, bizhub 284e, bizhub 224e | GDF-M1 | 7.0 |
| A3 | bizhub 368 | bizhub 558, bizhub 458, bizhub 368, bizhub 308 | G00-W4 | 4.2 |
| A3 | bizhub 458e | bizhub 658e, bizhub 558e, bizhub 458e, bizhub 368e, bizhub 308e | G00-W5 | 4.2 |
| A4 | bizhub 4750 | bizhub 4750, bizhub 4050 | C00-W51 | N/A |
| A4 | bizhub 4752 | bizhub 4752, bizhub 4052 | G00-V2 | 4.2 |
| A3 | bizhub 654 | bizhub 754, bizhub 654 | GBK-M0 | 7.0 |
| A3 | bizhub 654e | bizhub 754e, bizhub 654e | GDF-M0 | 7.0 |
| A3 | bizhub 808 | bizhub 958, bizhub 808 | G00-W5 | 4.2 |
| A3 | bizhub C284e | bizhub C554e, bizhub C454e, bizhub C364e, bizhub C284e, bizhub C224e | GDH-M1 | 7.0 |
| A3 | bizhub C287 | bizhub C287, bizhub C227 | G00-W4 | 4.2 |
| A3 | bizhub C364 | bizhub C554, bizhub C454, bizhub C364, bizhub C284, bizhub C224 | GBK-M0 | 7.0 |
| A3 | bizhub C368 | bizhub C368, bizhub C308, bizhub C258 | G00-W4 | 4.2 |
| A4 | bizhub C3850FS | bizhub C3850, bizhub C3350, bizhub C3850FS | 8A3-W51 | N/A |
| A4 | bizhub C3851FS | bizhub C3851FS, bizhub C3351 | G00-W4 | 4.2 |
| A3 | bizhub C558 | bizhub C658, bizhub C558, bizhub C458 | G00-W5 | 4.2 |
| A3 | bizhub C754 | bizhub C754, bizhub C654 | GBK-M0 | 7.0 |
| A3 | bizhub C754e | bizhub C754e, bizhub C654e | GDH-M0 | 7.0 |
| A3 | bizhub C759 | bizhub C759, bizhub C659 | G00-W5 | 4.2 |
| Production | bizhub PRO 1100 | bizhub PRO 1100 | G00-30 | N/A |
Sepialine Argos OnBoard v. 7.6.1 Build 1.0.2.7328 with KM Integration Version 7.0.0.4
The following MFPs were certified by as of 2015-11-20:
| MFP Segment | Model Tested | MFP Series | Firmware Tested |
| --- | --- | --- | --- |
| A3 | bizhub 287 | bizhub 367, bizhub 287, bizhub 227 | G00-28 |
| A3 | bizhub 364e | bizhub 554e, bizhub 454e, bizhub 364e, bizhub 284e, bizhub 224e | G20-K5 |
| A4 | bizhub 4750 | bizhub 4750, bizhub 4050 | 607-W99 |
| A3 | bizhub 552 | bizhub 652, bizhub 552 | GJ2-F2 |
| A3 | bizhub 601 | bizhub 751, bizhub 601 | MFP-20 (G00-20) |
| A3 | bizhub 654 | bizhub 754, bizhub 654 | G20-34 |
| A3 | bizhub 654e | bizhub 754e, bizhub 654e | G20-K5 |
| A3 | bizhub C284e | bizhub C554e, bizhub C454e, bizhub C364e, bizhub C284e, bizhub C224e | G20-K6 |
| A3 | bizhub C364 | bizhub C554, bizhub C454, bizhub C364, bizhub C284, bizhub C224 | G20-72 |
| A3 | bizhub C368 | bizhub C368, bizhub C308, bizhub C258 | G00-54 |
| A4 | bizhub C3850 | bizhub C3850, bizhub C3350, bizhub C3850FS | 705-W99 |
| A3 | bizhub C652 | bizhub C652, bizhub C552, bizhub C452 | GJ2-B5 |
| A3 | bizhub C754 | bizhub C754, bizhub C654 | G20-72 |
| A3 | bizhub C754e | bizhub C754e, bizhub C654e | G20-K5 |