bEST
bEST Technology Suite
PaperCut Hive from PaperCut Software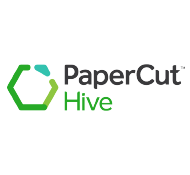 PaperCut Hive is a complete cloud-native print management system for all business, schools and government entities. From the beginning this product was designed for the public cloud with security top of mind while maintaining their best in class user experience. Hive offers users the ability to simply print from any device to a single print queue and securely release their print job using their mobile phone or their KM Output device.
PaperCut has more than 112 million users covering 70 thousand organizations in 195 countries. With vertical support across education, government, healthcare, and business in 30 languages.
PaperCut Hive includes a browser interface that requires i-Option (LK-101).


PaperCut Hive Full Embedded v. 2.0.2 Lite Release v. 3.0.0 Accessed 2023-04-26
The following MFPs were certified by Konica Minolta as of 2023-05-03:
| MFP Segment | Model Tested | MFP Series | Firmware Tested | Function Version Tested |
| --- | --- | --- | --- | --- |
| A3 | bizhub 850i | bizhub 950i, bizhub 850i | G00-09 | 2.2 |
PaperCut Hive Full Embedded 2.0.2, Lite Release 3.0.0, Accessed 2022-04-25 - 2022-04-29
The following MFPs were certified by Konica Minolta as of 2022-05-24:
| MFP Segment | Model Tested | MFP Series | Firmware Tested | Function Version Tested |
| --- | --- | --- | --- | --- |
| A3 | bizhub 287 | bizhub 367, bizhub 287, bizhub 227 | GCC-Y0 | 4.2 |
| A3 | bizhub 360i | bizhub 360i, bizhub 300i | G00-M2 | 2.0 |
| A3 | bizhub 368 | bizhub 558, bizhub 458, bizhub 368, bizhub 308 | GCC-X4 | 4.2 |
| A4 | bizhub 4052 | bizhub 4752, bizhub 4052 | GCC-X4 | 4.2 |
| A3 | bizhub 458e | bizhub 658e, bizhub 558e, bizhub 458e, bizhub 368e, bizhub 308e | GCC-Y1 | 4.2 |
| A4 | bizhub 4700i | bizhub 4700i | G00-M2 | 2.0 |
| A4 | bizhub 4750i | bizhub 4750i, bizhub 4050i | G00-M2 | 2.0 |
| A3 | bizhub 550i | bizhub 650i, bizhub 550i, bizhub 450i | G00-M2 | 2.0 |
| A3 | bizhub 750i | bizhub 750i | G00-M2 | 2.0 |
| A3 | bizhub 808 | bizhub 958, bizhub 808 | GCC-Y1 | 4.2 |
| A3 | bizhub C287 | bizhub C287, bizhub C227 | GCC-Y0 | 4.2 |
| A4 | bizhub C3300i | bizhub C3300i | G00-M2 | 2.0 |
| A4 | bizhub C3320i | bizhub C3320i | G00-M2 | 2.0 |
| A3 | bizhub C360i | bizhub C360i, bizhub C300i, bizhub C250i | G00-M2 | 2.0 |
| A3 | bizhub C368 | bizhub C368, bizhub C308, bizhub C258 | GCC-X4 | 4.2 |
| A4 | bizhub C3851FS | bizhub C3851FS, bizhub C3351 | GCC-X4 | 4.2 |
| A4 | bizhub C4000i | bizhub C4000i | G00-M2 | 2.0 |
| A4 | bizhub C4050i | bizhub C4050i, bizhub C3350i | G00-M2 | 2.0 |
| A3 | bizhub C550i | bizhub C650i, bizhub C550i, bizhub C450i | G00-M2 | 2.0 |
| A3 | bizhub C558 | bizhub C658, bizhub C558, bizhub C458 | GCC-Y1 | 4.2 |
| A3 | bizhub C750i | bizhub C750i | G00-M2 | 2.0 |
| A3 | bizhub C759 | bizhub C759, bizhub C659 | GCC-Y1 | 4.2 |
PaperCut Hive Full Embedded v. 1.0.9, Lite Release v. 1.0.7, Accessed 2021-06-23 - 2021-06-25
The following MFPs were certified by Konica Minolta as of 2021-07-06:
| MFP Segment | Model Tested | MFP Series | Firmware Tested | Function Version Tested |
| --- | --- | --- | --- | --- |
| A3 | bizhub 287 | bizhub 367, bizhub 287, bizhub 227 | GC1-X8 | 4.2 |
| A3 | bizhub 360i | bizhub 360i, bizhub 300i | G00-E9 | 2.0 |
| A3 | bizhub 368 | bizhub 558, bizhub 458, bizhub 368, bizhub 308 | GC3-X4 | 4.2 |
| A4 | bizhub 4052 | bizhub 4752, bizhub 4052 | GC3-X4 | 4.2 |
| A3 | bizhub 458e | bizhub 658e, bizhub 558e, bizhub 458e, bizhub 368e, bizhub 308e | GC1-X8 | 4.2 |
| A4 | bizhub 4700i | bizhub 4700i | G00-E9 | 2.0 |
| A4 | bizhub 4750i | bizhub 4750i, bizhub 4050i | G00-E9 | 2.0 |
| A3 | bizhub 550i | bizhub 650i, bizhub 550i, bizhub 450i | G00-E9 | 2.0 |
| A3 | bizhub 750i | bizhub 750i | G00-E9 | 2.0 |
| A3 | bizhub 808 | bizhub 958, bizhub 808 | GC1-X8 | 4.2 |
| A3 | bizhub C287 | bizhub C287, bizhub C227 | GC1-X8 | 4.2 |
| A4 | bizhub C3300i | bizhub C3300i | G00-E9 | 2.0 |
| A4 | bizhub C3320i | bizhub C3320i | G00-E9 | 2.0 |
| A3 | bizhub C360i | bizhub C360i, bizhub C300i, bizhub C250i | G00-E9 | 2.0 |
| A3 | bizhub C368 | bizhub C368, bizhub C308, bizhub C258 | GC3-X4 | 4.2 |
| A4 | bizhub C3851FS | bizhub C3851FS, bizhub C3351 | GC3-X4 | 4.2 |
| A4 | bizhub C4000i | bizhub C4000i | G00-E9 | 2.0 |
| A4 | bizhub C4050i | bizhub C4050i, bizhub C3350i | G00-E9 | 2.0 |
| A3 | bizhub C550i | bizhub C650i, bizhub C550i, bizhub C450i | G00-E9 | 2.0 |
| A3 | bizhub C558 | bizhub C658, bizhub C558, bizhub C458 | GC1-X8 | 4.2 |
| A3 | bizhub C750i | bizhub C750i | G00-E9 | 2.0 |
| A3 | bizhub C759 | bizhub C759, bizhub C659 | GC1-X8 | 4.2 |