bEST
bEST Technology Suite
KM Embedded Client For UniFLOW from Business I.T. Systems Ltd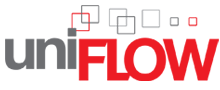 uniFLOW from NT-ware
uniFLOW is a software platform for all your print, scan, and device management, designed to bring the full value of multi-functional printers, scan devices and large format printers to your organization. The uniFLOW Embedded Applet for Konica Minolta provides a device-integrated solution enabling device locking, job release from a secure print queue, print and copy accounting, and integration with the native scanning of Konica Minolta devices. Managed by uniFLOW, Konica Minolta multifunctional devices are easily integrated within your print fleet. This allows users to print using a single driver for the entire fleet and all their print jobs will follow users from device to device, irrespective of the make or model. As costs can be tracked accurately by uniFLOW, internal costs can be charged back correctly by the Finance Department and current usage audited.
The KM Embedded Client For uniFLOW created by Business I.T. Systems Ltd. provides connectivity to uniFLOW for Konica Minolta MFPs.
The KM Embedded Client for uniFLOW does not require i-Option (LK-101) or additional memory.
UniFLOW Konica Minolta Client Version 1.2.2.0
The following MFPs were certified by Konica Minolta as of 2021-01-28:
| MFP Segment | Model Tested | MFP Series | Firmware Tested | Function Version Tested |
| --- | --- | --- | --- | --- |
| A3 | bizhub 287 | bizhub 367, bizhub 287, bizhub 227 | GC1-X8 | 4.2 |
| A3 | bizhub 360i | bizhub 360i, bizhub 300i | G00-33 | 2.0 |
| A3 | bizhub 368 | bizhub 558, bizhub 458, bizhub 368, bizhub 308 | GC3-X4 | 4.2 |
| A4 | bizhub 4052 | bizhub 4752, bizhub 4052 | GC3-X4 | 4.2 |
| A3 | bizhub 458e | bizhub 658e, bizhub 558e, bizhub 458e, bizhub 368e, bizhub 308e | GC1-X8 | 4.2 |
| A4 | bizhub 4700i | bizhub 4700i | G00-22 (GX1-22) | 2.0 |
| A4 | bizhub 4750i | bizhub 4750i, bizhub 4050i | G00-22 (GX1-22) | 2.0 |
| A3 | bizhub 550i | bizhub 650i, bizhub 550i, bizhub 450i | G00-31 | 2.0 |
| A3 | bizhub 750i | bizhub 750i | G00-37 | 2.0 |
| A3 | bizhub 808 | bizhub 958, bizhub 808 | GC1-X8 | 4.2 |
| A3 | bizhub C287 | bizhub C287, bizhub C227 | GC1-X8 | 4.2 |
| A4 | bizhub C3300i | bizhub C3300i | G00-B5 | 2.0 |
| A4 | bizhub C3320i | bizhub C3320i | G00-B5 | 2.0 |
| A3 | bizhub C360i | bizhub C360i, bizhub C300i, bizhub C250i | G00-B6 | 2.0 |
| A3 | bizhub C368 | bizhub C368, bizhub C308, bizhub C258 | GC3-X4 | 4.2 |
| A4 | bizhub C3851FS | bizhub C3851FS, bizhub C3351 | GC3-X4 | 4.2 |
| A4 | bizhub C4000i | bizhub C4000i | G00-B5 | 2.0 |
| A4 | bizhub C4050i | bizhub C4050i, bizhub C3350i | G00-B5 | 2.0 |
| A3 | bizhub C550i | bizhub C650i, bizhub C550i, bizhub C450i | G00-B6 | 2.0 |
| A3 | bizhub C558 | bizhub C658, bizhub C558, bizhub C458 | GC1-X8 | 4.2 |
| A3 | bizhub C750i | bizhub C750i | G00-35 | 2.0 |
| A3 | bizhub C759 | bizhub C759, bizhub C659 | GC1-X8 | 4.2 |
Business I.T. Systems, Ltd. UniFlow Konica Minolta Client Service Version 1.2.0 with Registration Tool v. 1.00 and UniFlow Version 5.4 SR7
The following MFPs were certified by Konica Minolta as of 2018-12-26:
| MFP Segment | Model Tested | MFP Series | Firmware Tested | Function Version Tested |
| --- | --- | --- | --- | --- |
| A4 | bizhub 4052 | bizhub 4752, bizhub 4052 | G00-W4 | 4.2 |
| A3 | bizhub 458e | bizhub 658e, bizhub 558e, bizhub 458e, bizhub 368e, bizhub 308e | G00-W5/G00-W4 | 4.2 |
| A3 | bizhub C759 | bizhub C759, bizhub C659 | G00-W5 | 4.2 |
Business I.T. Systems, ltd. uniFlow Konica Minolta Client Service Version 1.2.0 with Registration Tool v. 1.00 and UniFlow version 5.4 SR7
The following MFPs were certified by Konica Minolta as of 2017-04-18:
| MFP Segment | Model Tested | MFP Series | Firmware Tested |
| --- | --- | --- | --- |
| A3 | bizhub 287 | bizhub 367, bizhub 287, bizhub 227 | G00-G3 |
| A3 | bizhub 364e | bizhub 554e, bizhub 454e, bizhub 364e, bizhub 284e, bizhub 224e | G20-M0 |
| A3 | bizhub 368 | bizhub 558, bizhub 458, bizhub 368, bizhub 308 | G00-13 |
| A4 | bizhub 4750 | bizhub 4750, bizhub 4050 | 902-W99 |
| A3 | bizhub 654 | bizhub 754, bizhub 654 | GB6-K9 |
| A3 | bizhub 654e | bizhub 754e, bizhub 654e | GD6-M0 |
| A3 | bizhub 808 | bizhub 958, bizhub 808 | G00-K7 |
| A3 | bizhub C284e | bizhub C554e, bizhub C454e, bizhub C364e, bizhub C284e, bizhub C224e | G20-K8 |
| A3 | bizhub C287 | bizhub C287, bizhub C227 | G00-G3 |
| A3 | bizhub C364 | bizhub C554, bizhub C454, bizhub C364, bizhub C284, bizhub C224 | GB2-K5 |
| A3 | bizhub C368 | bizhub C368, bizhub C308, bizhub C258 | G00-G3 |
| A4 | bizhub C3850 | bizhub C3850, bizhub C3350, bizhub C3850FS | 851-W99 |
| A4 | bizhub C3851FS | bizhub C3851FS, bizhub C3351 | G00-K8 |
| A3 | bizhub C558 | bizhub C658, bizhub C558, bizhub C458 | G00-K7 |
| A3 | bizhub C754 | bizhub C754, bizhub C654 | GB6-K9 |
| A3 | bizhub C754e | bizhub C754e, bizhub C654e | GD3-K9 |